Thousands of residents are without power this morning as severe
thunderstorms
and heavy rainfall lash
Melbourne
.
The Bureau of Meteorology has issued several weather warnings for "very dangerous thunderstorms" with intense rainfall that may lead to "life-threatening flash flooding" over northern and western Melbourne, and the southern Macedon Ranges.
As many as 3000 homes are in darkness as the storms sweep in from north-western parts of Victoria, where regions such as Kyneton are already experiencing flash flooding.
The Telstra exchange building has also reportedly flooded, triggering communication issues.
Bureau of Meteorology meteorologist Jackson Browne said 56mm of rainfall was recorded this morning in just an hour.
"That is rainfall typically you would expect once per century," he said.
"So just to give you an idea of how high-end some of these rainfall rates are.
"We've got very tropical air over Victoria and Melbourne included. We are seeing very slow-moving thunderstorms which is why we're warning for severe thunderstorms leading to heavy rainfall."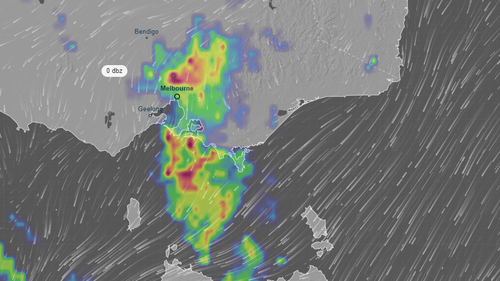 The storm is expected to skirt over to the east of the city, battering Melbourne's eastern suburbs the most over the next few hours.
The core of the thunderstorms could see rainfall reach up to 60mm.
"The storm is looking to head out to Dandenong, Lilydale, probably skirting the south-east suburbs," Mr Browne said.
"It's not compelled to move all that quickly. So it's really just trundling along and all the while delivering that heavy rainfall."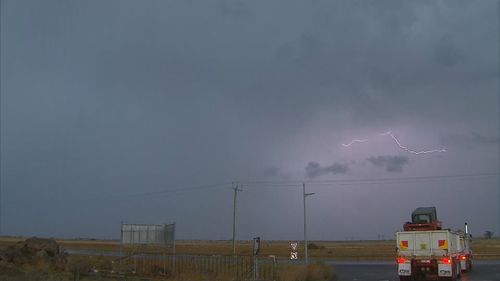 The Department of Health also issued a heat health warning, as yesterday became the hottest Australia Day in 16 years, with the mercury climbing to 36 degrees in Melbourne.
Temperatures are forecast to climb to 34 degrees today but combined with stifling humidity.
Last night the temperature did not dip below about 25 degrees in the city.
In
Sydney
, it will be partly cloudy with a maximum temperature of 28C and in Canberra a top of 29C.
Perth
is set to swelter through its continued heatwave, with a top of 39C.
There is a chance of a possible storm in
Adelaide
, with temperatures climbing to 31C.
In
Brisbane
, it will be partly cloudy with a top of 30C.
Showers and a possible storm are forecast for
Darwin
, with temperatures reaching 32C.
In
Hobart
, showers are set to clear and it will be 27C.