Ukrainian and British officials warned Saturday that Russian forces are
relying on weapons
able to cause mass casualties as they try to make headway in capturing eastern Ukraine and fierce, prolonged fighting depletes resources on both sides.
Russian bombers have likely been launching heavy 1960s-era anti-ship missiles in Ukraine, the UK Defense Ministry said. The Kh-22 missiles were primarily designed to destroy aircraft carriers using a nuclear warhead.
When used in ground attacks with conventional warheads, they "are highly inaccurate and therefore can cause severe collateral damage and casualties," the ministry said.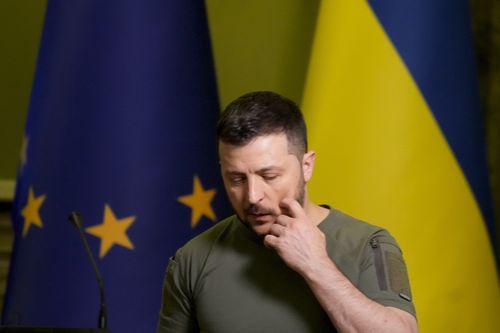 Both sides have expended large amounts of weaponry in what has become a grinding war of attrition for the eastern region of coal mines and factories known as the Donbas, placing huge strains on their resources and stockpiles.
Russia is likely using the 5.5-tonne anti-ship missiles because it is running short of more precise modern missiles, the British ministry said. It gave no details of where exactly such missiles are thought to have been deployed.
As Russia also sought to consolidate it's hold over territory seized so far in the 108-day war, US Defense Secretary said Moscow's invasion of Ukraine "is what happens when oppressors trample the rules that protect us all."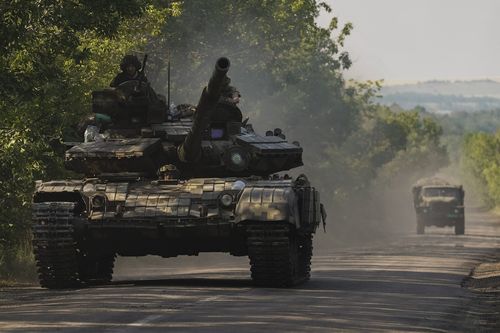 "It's what happens when big powers decide that their imperial appetites matter more than the rights of their peaceful neighbors," Austin said during a visit to Asia.
"And it's a preview of a possible world of chaos and turmoil that none of us would want to live in."
Zelenskyy seeks more EU sanctions on Russia
During a visit to Kyiv by the European Union's top official, Ukrainian President Volodymr Zelenskyy called for a new round of "even stronger" EU sanctions against Russia.
Zelenskyy called for the new sanctions to target more Russian officials, including judges, and to hamper the activities of all Russian banks, including gas giant Gazprom's bank, as well as all Russian companies helping Moscow "in any way."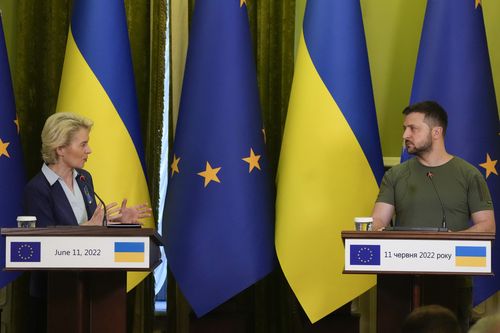 He spoke during a brief press appearance with European Commission President Ursula von der Leyen at the heavily guarded presidential office compound in Kyiv.
The pair discussed Ukraine's aspirations for EU membership. Zelenskyy said Ukraine "will do everything" to integrate with the bloc.
Von der Leyen praised Ukraine's "strength and resilience" in the face of Russia's "horrible and atrocious" invasion and said the EU would assist with reconstruction so the country could "rise from the ashes."
"We are mourning with you. We share the tears with you," she said.
Von der Leyen was on her second visit to Ukraine since Russia invaded its neighbor. She was one of the first European leaders to go to Ukraine during the war.
Russia sets up company to sell Ukraine's grain
Russian-installed officials in Ukraine's southern Zaporizhzhia region have set up a company to buy up local grain and resell it on Moscow's behalf, a local representative told the Interfax news agency on Saturday.
Ukraine and the West have accused Russia of stealing Ukraine's grain and causing a global food crisis that could cause millions of deaths from hunger.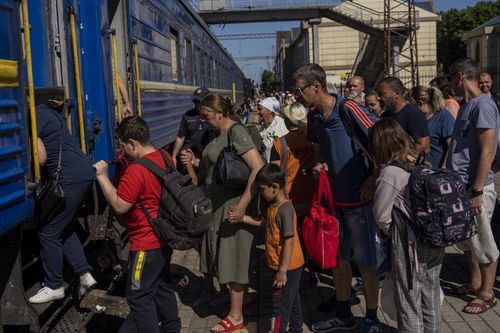 Yevgeny Balitsky, the head of Zaporizhzhia's pro-Russian provisional administration, said the new state-owned grain company has taken control of several facilities.
He said "the grain will be Russian" and "we don't care who the buyer will be."
Balitsky added that the company is considering the purchase of grain from both this year and last year's harvests, with collection beginning in two weeks. It was not clear if the farmers whose grain was being sold by Russia were getting paid.
He said his administration would not forcibly appropriate grain or pressure producers to sell it.