Barnaby Joyce
's security team was forced to intervene when the Deputy Prime Minister was confronted by a furious man on the side of a busy highway.
Video footage shows the moment the driver of a car got out of his vehicle and launched an expletive-filled tirade towards Mr Joyce, as an Australian Federal
Police
officer stood between the man and the Nationals leader.
Mr Joyce and some of his team had been driving on the New England Highway near Armidale, in northern
New South Wales
, when he pulled to the side of the road to take a phone call yesterday.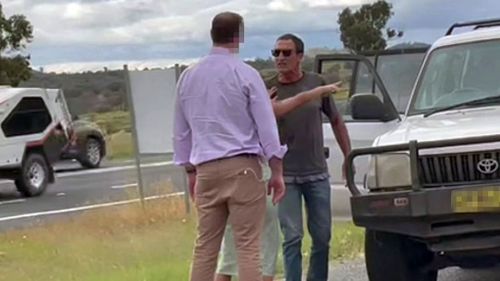 A four-wheel-drive reportedly made a u-turn across the road and stopped near the parked vehicle, before the driver got out and tried to confront Mr Joyce.
"You're a f—— piece of s—, Barnaby," was just some of the verbal abuse sent Mr Joyce's way in the minute-long encounter.
The AFP officer, who had been standing in front of the man's car once it pulled up, was called a "dog" and told to "get out of the way" by the irate motorist.
And one point, the driver appears to redirect his attention to the officer, bouncing on his feet and clenching a fist as he says "come on, come on".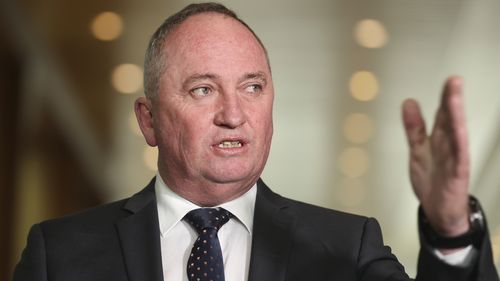 A woman, who had been travelling in the same car as the man, can be seen trying to calm him down and get him back in the vehicle.
She initially succeeds, but the man soon leaves the car and confronts Mr Joyce and his security officer for another ten seconds or so before he is finally ushered back into his car.
The whole encounter lasted a little over a minute.
Mr Joyce told 9News he was grateful to his security team for keeping him safe.
"This in no way reflects how the majority of Australians participate in our democracy," he said.
"I thank my protective ­detail for their bravery in keeping myself and my staff safe. This will be dealt with through the appropriate ­processes."