Residents on
New South Wales'
north coast have faced a night of uncertainty after rivers rose,
flooded
homes and threatened lives.
As a volatile weather system circles off the coast, the response of the NSW State Emergency Service (NSW SES) and Bureau of Meteorology (BOM) came under fire —with officials accusing the services of slow updates.
An aged care worker, feared swept away by floodwaters,
remains missing in Lismore
, and the dangerous weather system is tracking south.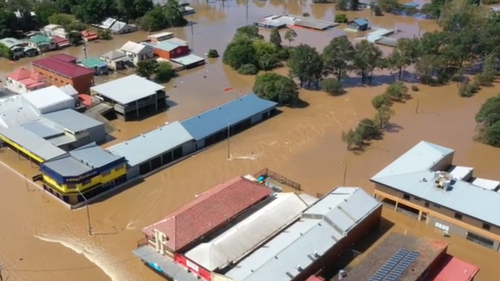 While heavy rain is set to ease today over northern NSW, another weather warning has been issued further south.
Strong winds are being felt across the state with a Gale Warning issued for NSW's north, down to the south coast.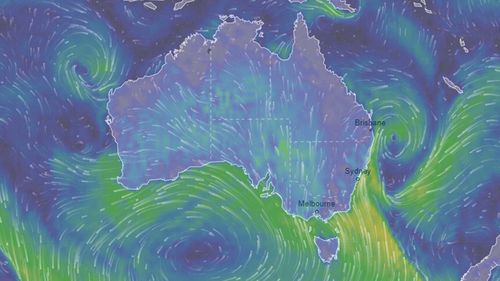 The BoM has also issued a damaging surf warning for people in parts of Mid North Coast, Hunter, Metropolitan, Illawarra and South Coast Forecast Districts.
"Damaging surf along central and southern NSW coast developing Thursday afternoon. Abnormally high tides possible along parts of the Mid North Coast from Thursday morning," it said.
The sea is being whipped by a low pressure system which currently lies about 280 kilometres off northern NSW, while a slow-moving high pressure system is situated south of the Bight.
Currently more than 20 flood warnings for river systems are in place across the north and mid north coast, down to Sydney's Hawkesbury where a minor flood warning has been issued.
The water bodies of concern in the state are:
Tweed River
,
Wilsons River
,
Clarence River
,
Bellinger and Kalang Rivers
,
Macleay River
,
Hastings River
,
Manning River
,
Wollombi Brook
,
Hawkesbury and Colo Rivers
,
Orara River
,
Severn River
,
Culgoa Birrie Bokhara and Narran Rivers
,
Brunswick River and Marshalls Creek
,
Nambucca River
,
Camden Haven River
,
Richmond River
,
Coffs Creek
,
Macintyre River, Macintyre Brook, and Dumaresq River
.
NSW SES has issued several evacuation orders for the Northern Rivers district and Mid North Coast as a low pressure system slowly weakens.
Low lying areas of Brushgrove and Cowper, Ulmarra, and North Macksville, were put on alert within the last 11 hours.
Lismore floods for second time in weeks
Police have issued an urgent appeal for information as the search for a missing 55-year-old continues.
Anita Brakel was last seen in her car on Tuesday evening.
NSW Police Assistant Commissioner Joe Cassar said Ms Brakel, who originally lived in Nowra, had been recruited to Lismore as an aged care worker.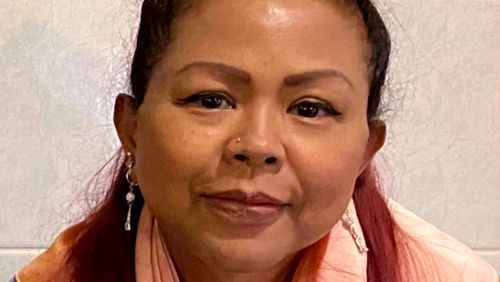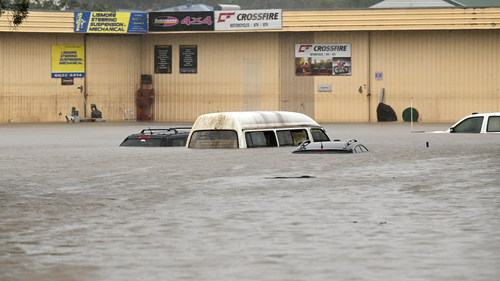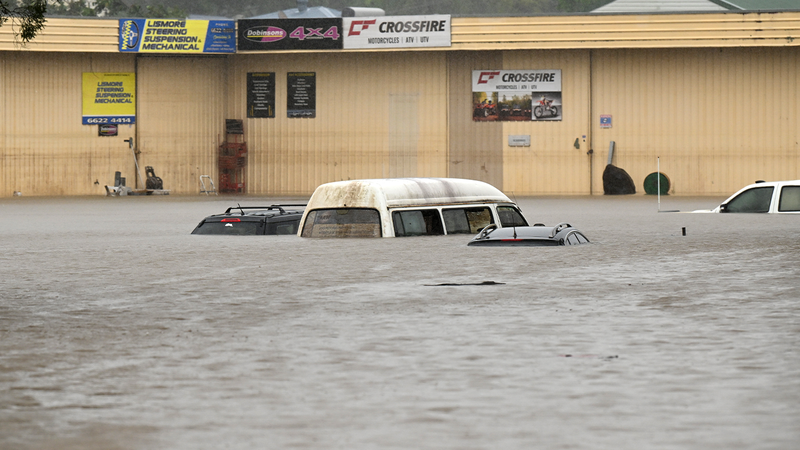 A major flood warning is current for both the Richmond River and Wilsons River, with the levee breached.
The Bureau of Meteorology (BoM) doesn't expect the river to fall below the major flood height of 9.70 metres until Thursday afternoon or evening.
"The Wilsons River at Lismore (AHD) peaked at 11.40 metres around 05:00 pm Wednesday 30 March and is currently at 10.99 metres and falling slowly with major flooding," BoM said.
"River levels along the Wilsons River at Lismore are likely to remain above the height of the levee during Thursday morning with major flooding, before easing further during the afternoon."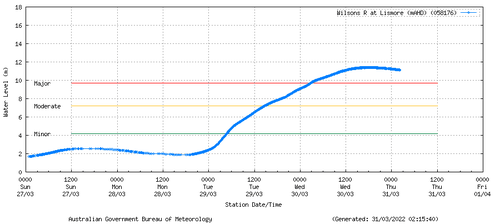 It's the second time the town has flooded in a month, with February bringing a flood peak of more than 14 metres.
In total the unit were tasked with just under 100 requests for assistance, including flood evacuations, support and storm jobs.
Fire and Rescue NSW teams were also on hand to assist, and helped paramedics reach an eight-year-old boy suffering from COVID-19 isolated by floodwaters at Bucca, north of Coffs Harbour.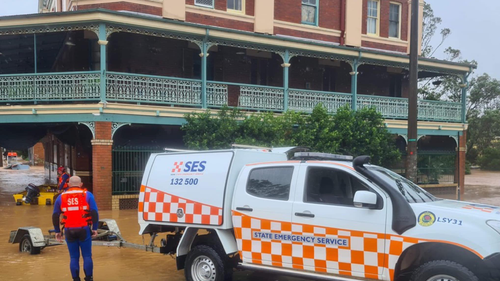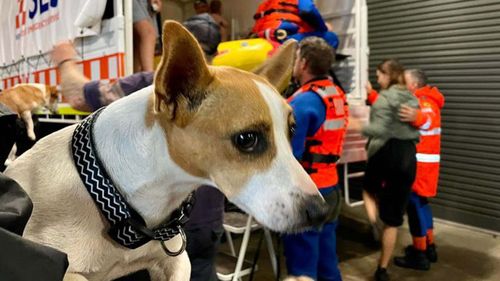 However the response of the NSW SES is now under a spotlight.
Residents in the town faced uncertainty yesterday morning when an evacuation order for the CBD was rescinded then re-issued in the early hours.
"You can't rely on the SES and the Bureau at the moment," Lismore Mayor Steve Krieg told Ben Fordham.
Ballina residents begin clean-up
Ballina residents have also criticised a lack of evacuation warnings as they woke up to a town underwater yesterday morning.
Long-time Byron resident Marc Wilson told 9News the flooding was the "worst I've ever seen".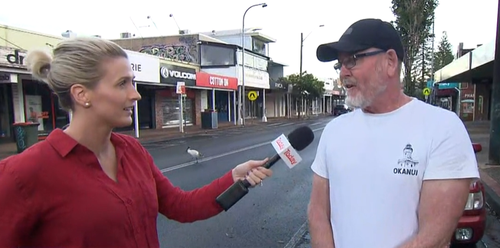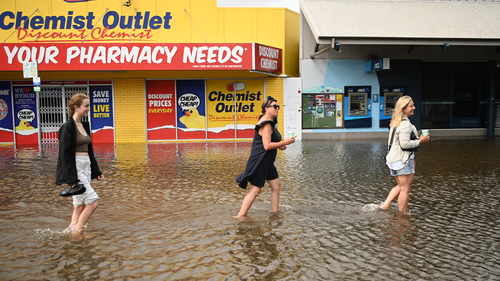 "Words can't describe what we went through," he said.
"We knew a storm was coming just not to the extreme it did come.
"Otherwise, I'm sure a lot of these shops would have sandbagged and done a lot of preparation if they knew it would be as severe as it was."
The Ballina SES unit was smashed with requests yesterday amid extensive flash flooding — many homes and businesses remain without power.
As of 5pm yesterday they had received 169 requests for help "excluding flood rescues and unrecorded evacuations".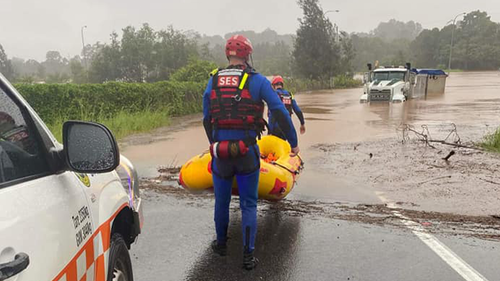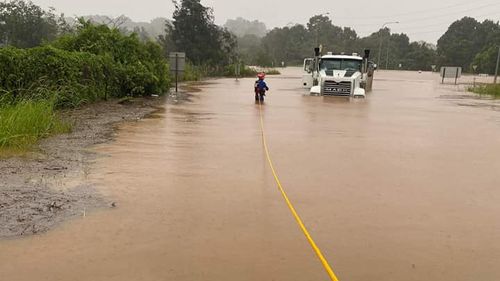 "This brings the total to 214 recorded jobs over the past three days," they wrote on Facebook.
"Over the past 24hrs there has been 282mm of rainfall and the Richmond river peaked at 2.38m at 8:30am," it said.
Ms Elliott previously called for the "urgent" set up of evacuation centres in Ballina.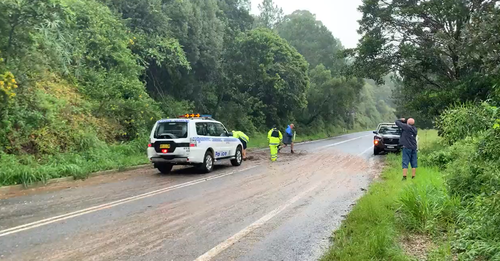 Streets and businesses were swallowed as landslips occurred as the coastal area was lashed with rain.
The main highway in and out of the town was cut off, as saturated catchments lead to flash flooding.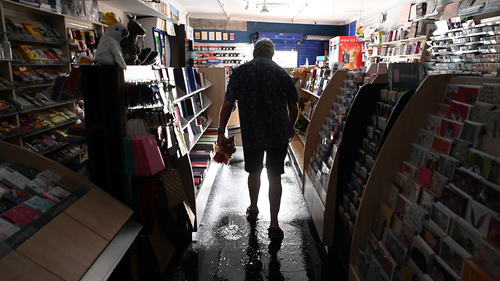 Residents have now begun the hard task of cleaning up.